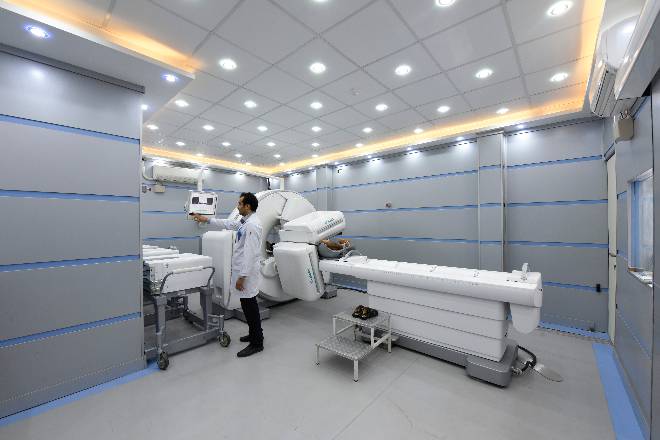 The Nuclear Medicine Center was established as the first private center in Iran to serve and promote health as a subset of the Jam Hospital.
The center was expanded in the following years by efforts of two nuclear medicine specialists. Following developments in diagnostic nuclear technology over the past two decades, it is honorably announced that the latest generation of the SPECT/CT hybrid device (Siemens, Germany) has been installed and become operational at the Nuclear Medicine Center of Jam Hospital.
This modern technology has the highest spatial resolution and sensitivity among similar devices, enabling quantitative examination and monitoring of treatment using the standardized uptake value (SUV) parameter, which is similar to the positron emission tomography (PET) technology. The features of this device include a 74% reduction in CT radiation dose, a 26% reduction in SPECT dose, and reduced scan time.
In addition to performing routine services, this center perform scans that are rarely taken elsewhere to allow our fellow citizens to benefit from all possible diagnostic nuclear medicine technologies available in the country.
The list of services offered at this center is as follows:
- Coronary calcium scan
- Ischemia
- Viability and myocardial infarction
- Global and regional function
- Phase analysis
- Assessment of right ventricular ejection fraction (EF)
- Whole body MIBI scan or thallium to examine tumor activity
- Bone scan
- Perfusion and functional MRI to assess various types of dementia, brain tumors, temporal epilepsy and tremor (TRODAT Scan) using SPECT-CT.
- Lymphoscintigraphy scan
- Somatostatin receptor scintigraphy (octreotide scan) for examining neuroendocrine tumors
- Accurate assessment and localization of tumors with somatostatin receptors
- Neuroendocrine and gastroenteropathic tumors
- Pheochromocytoma, neuroblastoma, paraganglioma
- Medullary thyroid carcinoma, carcinoid tumors
- Gallium scan to evaluate tumors (for Hodgkin's disease and lymphoma), inflammation and abscess
- Pulmonary perfusion scan for pulmonary embolism assessment and quantitative preoperative evaluation
- Gastrointestinal assessment and performance scans:
- Gastric drainage
- Gastrointestinal bleeding and Meckel's diverticulum
- Examination of liver and liver masses
- Diagnosis of hemangioma and the biliary tract
- Presence of accessory spleen
- Salivary glands
- Metaiodobenzylguanidine (MIBG) scan for localization of neuroectodermal tumors (neuroblastoma, pheochromocytoma, ganglioneuroma)
- Kidney scan:
- Examination of kidney function in transplant-naive patients and renal transplant with DTPA and EC
- Urinary reflux and its effects with DRNC and DMSA scan
- Renal hypertension (Captopril)
- Testicular ultrasound
- Thyroid and parathyroid scans:
- Thyroid scan and thyroid assessment for uptake of technetium
- Iodine-131 (I131) whole body scan to examine thyroid metastasis
- Accurate anatomic localization and diagnosis of small-sized parathyroid adenomas
- Subtraction imaging of thyroid from parathyroid
- Treatment of hyperthyroidism with I131
- Pain management in metastatic bone disease using (153)Sm-EDTMP, (186)Re-etidronate, and Methasterone